In 2010, our formulas, tradenames, and entire product line was acquired by Seagrave Coatings, which continues to make our line of products using the same product numbers and names. The Lawrence-McFadden Company, Inc. began in 1875 with a partnership between Bruce McFadden, Alexander Lawrence, Jr., and Harold Elliot. They formed the Lawrence-McFadden and Elliot Company (Trademark L-Mac-E). Later in the early 1900's, they acquired the assets of Barrett- Lindenman Company. The entire production shifted from a retail paint operation to production and manufacturing of stains, fillers, varnishes, japans, enamels, and nitrocellulose sealers and lacquers.
As the company expanded, Harold Elliot's holdings were purchased, and the name was changed to The Lawrence-McFadden Company, Inc. A research laboratory was established, and modern machinery was installed.
Through the 1930's, 40's and 50's, emphasis was placed on finishing materials for wood household furniture. As furniture production shifted from Michigan to the Carolinas and Tennessee, so did our shipments. Today, however, with furniture production worldwide, our focus has also shifted to include finishes for custom kitchen cabinets, musical instruments such as pianos, organs, and guitars, and wooden burial caskets. Our product mix includes traditional materials such as stains, fillers, sealers, and lacquers, as well as, urethanes, polyesters, UV and water-based coatings.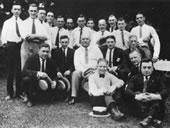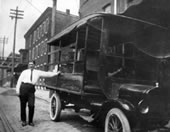 Written by Peter Beck. Copyright © 1997, The Lawrence-McFadden Company, Inc.
All rights reserved.